The workspace's design has been evolving every passing year, due to significant developments in the office culture. The general mood of an office workspace has been swinging between casual coworking spaces to discrete zones created according to the team requirements.
While some prefer open-planned settings, other companies feel that individuals and teams need their own well-defined space to focus and keep themselves away from workplace distractions.
Glass office partitions can help you enjoy the best of both worlds. Modern offices are adapting to the open-layout idea of present-day offices that provide transparency and visibility across the floor, while also respecting everyone's space and privacy. 
Interior glass walls add a sophisticated and elegant look to the workspace. By allowing natural light and air into the work zones, these modern installations are transforming coworking spaces into something more "natural".
Glass partitions come in a variety of options, and one can easily choose what suits best according to their requirements and office layouts. They are flexible in terms of design and suitability and can be easily modified as per the size and shape of the workplace.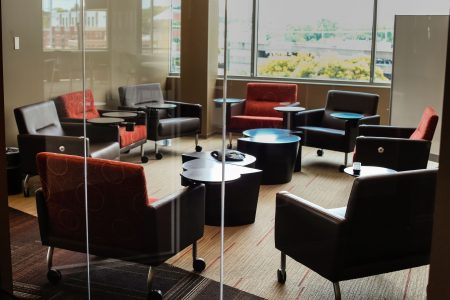 Single Glazed Glass partitions
Single Glazed Glass partitions are very effective in zoning out office-areas without compromising on visibility and accessibility. They are easy to install and cost less when compared to other forms of office zoning installments.
The acoustic glass partition is a reinforced glass partition that provides superior sound insulation. Its unique feature is its noise insulation properties, which don't require the installation of a second aluminum pane, unlike double-glazed glass partitions. This is the ideal option if someone wishes to choose something between single glazed or double glazed installations. 
Double glazed glass partition
Like single glazed glass partitions, double glazed glass partitions aid in keeping an open line of sight in the office environment, while providing added sound insulation. They are recommended for companies who wish to cancel noise distractions but still maintain a casual coworking space.
The installation of glass partitions must be accompanied by a film. It prevents people from getting hurt if they miss the highly-transparent glass partitions and get hurt by walking into it.
Along with its functional purpose, the installation of the film also provides an aesthetic element to your workspace. One can easily add glass manifestations of the company logo or the brand motto. Choosing a textured film is also an option for people who want to customize a meeting room or boardroom. The visibility can be easily altered between opaque and transparent, according to one's requirements.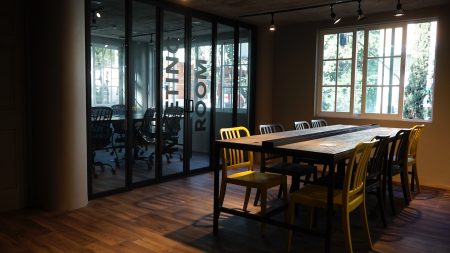 Installing glass partitions for coworking spaces helps to divide the office space into designated zones to increase productivity, without compromising on the spacious feel of an 'open-office'. Glass 'Cubicles' come with their own 'transparent privacy', which is an excellent asset for corporate branding. 
If you're considering installing glass partitions in your coworking office, then Kova Partitions can help you transform your workspace with their team of glass partition specialists. By being the UK's leading experts in glass partitioning for shared workspaces, our expertise in designing and installations will transform the appearance of your office completely and securely. 
Pictures: www.unsplash.com, www.pixabay.com, Kova Partitions