Our latest project for WMS company!
We've completed an amazing project by creating a meeting room and a separate kitchen area for WMS company in North London. Our client needed to separate the office area for the kitchen and create a new meeting room. After discussing different options with the client they have chosen to install Industrial Style Black Framed Glazed Partitioning.
Meeting rooms are usually the areas that need some level of privacy, but that doesn't mean they have to be divided from the office, reducing light and creating a closed environment. Using a glass partitioning system in the office is a trendy way for the many companies of making the best use of the space in their buildings.  Glass wall is a perfect solution when it's needed to separate office space as glass let light flow through space but give privacy for meetings.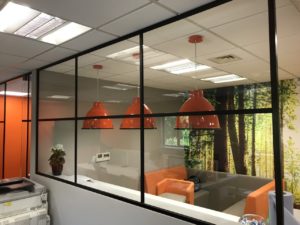 Glass meeting rooms can provide good acoustic performance with a single or double glazed including integral blinds to give more privacy when it's needed.  
Manifestations are obligated because of regulation. There many options for manifestations incorporation, including a company logo or any artwork. For this particular work we did not have to apply any manifestations, because we used Industrial Style Black Framed Glazed Partitioning. Black frame allows to comply with regulation.
It's proven that employees who can get access to daylight are more active and productive. In offices with big space, it's recommended to have natural daylight by using glass partitioning for meeting rooms by the windows.
Many studies have proved that offices with well designed and stocked up kitchen actually significantly improve employees' wellbeing. 
The office kitchen is a place to unwind, have food or coffee, and relax. Employees can have a much-needed break from PC screens or phones and engage in communication with colleagues in the kitchen. It doesn't matter what size you have for the kitchen, more important that space is welcoming, encouraging staff to communicate and relax.  
We offer many options for switchable glass products providing a flexible and cost-effective solution for creating a meeting room or kitchen in the office with any sizes and for any layouts. All of the glass partitioning using for meeting rooms and kitchen will be designed to be customised and tailored to all your requirements.